Can You Honestly Meet Asian Women On AsianBeautyOnline.com
Website Details: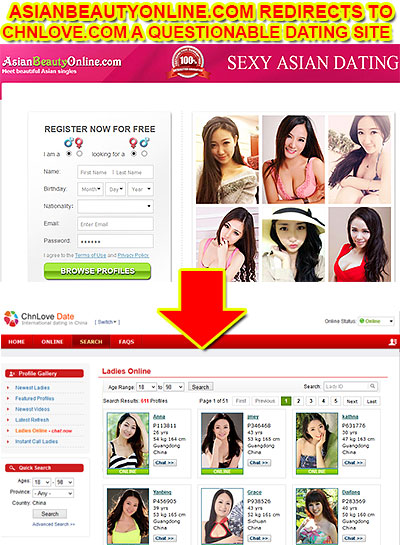 Overview
AsianBeautiesOnline.com is owned and operated by the same people who own ChnLove.com. ChnLove.com is still very popular and in our previous review we detailed some negative reviews we found online reviews stating that ChnLove.com was a 100% scam. We also discussed various questions we had such as if the women on the site were actually real or just paid models? Read the ChnLove.com review here.
AsianBeautyOnline.com Redirects To ChnLove.com
When we registered on AsianBeautiesOnline.com we got sent to ChnLove.com. Like we mentioned above we already reviewed ChnLove.com in the past so if you want to know our opinions you can read the review here. AsianBeautiesOnline.com is created as marketing tool to get people over to the members area of ChnLove.com. From there you will need to purchase "credits" to be able to communicate and chat with the women on the site.
Positive Online Reviews From ChnLove.com, Are They Real?
We find it interesting that ChnLove.com had a rating of 2/5 stars on September 11, 2014 but now on March 3, 2016 they have jumped up to 3.5/5 stars. Pretty impressive turn around in positive reviews. But things may not appear to be what they seem. We know from personal experience when we wrote a review of AmoLatina.com, after about 6 months we started getting bombarded with all these positive reviews praising Amo Latina. We knew it was someone who wanted to shine AmoLatina.com in a positive light by trying to post fake positive reviews on DatingBusters.com, in essence spamming our site. We of course deleted all the fake positive reviews (which were obvious to us). We received 2-3 positive AmoLatina reviews daily for a few weeks but we went though and read every review and knew this was the work of an online reputation management company. Once they realized all the fake reviews were being deleted they quite trying to spam our site with their fake reviews. We look at ChnLove.com and this could possibly be what's going on here.
Some companies charge $6,300.00 for "online reputation management" (see screen shot of a Google ad for "reputation control" below). We are not pointing out this company is writing fake reviews just that there are services that help to bolster your reviews and help to get rid of negative reviews online by writing and placing fake reviews on sites like Yelp, reviews sites, blogs, Twitter and FaceBook to name a few. We are just stating there are companies created solely for "fixing your online reputation". So don't get duped into believing a review just because you see a 3.5/5 rating. These type of companies can manipulate online reviews to make it seem like dating sites are great when they are complete scams.

Below we have added reviews from SiteJabber.com showing what we consider to be real reviews from genuine users of CnLove.com. You need to be street smart to see through the phony reviews so you don't spend thousands of dollars like some of these poor men did. On the review page the positive reviews so ridiculous. Many of the positive reviews are written from a person who does' know how to write English well.
Hosting Server Info:
Address Of Host: 410 Terry Ave N., Seattle, WA, 98109, US
IP Address Of Server: 52.21.39.24
Name Servers: DNS1.NAME-SERVICES.COM, DNS2.NAME-SERVICES.COM, DNS3.NAME-SERVICES.COM, DNS4.NAME-SERVICES.COM, DNS5.NAME-SERVICES.COM
Contact Information :
Final Decision:
AsianBeautyOnline.com is connected to ChnLove.com like we mentioned so we hope you make the right decision. Many people have complained about losing thousands of dollars on ChnLove.com so you may want to think twice before buying credits there.
Search For Real Females Here
Check out these these legit dating sites if you want to search for real women
File A Report
© 2016, Admin. All rights reserved.