QuickSexMatch.com Is Nothing But A Quick Scam As Proven In This Investigation
Website Details: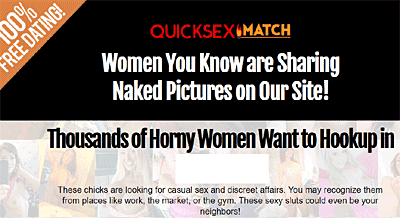 Cost:
$2.97 for a 3 day trial that renews at $39.95 per month for a full paid subscription to the site.
$29.95 / a month for a one month subscription to the site.
$74.85 for a 3 month subscription to the site.
$119.70 for a 6 month subscription to the site.
Features:
My Profile: Easily edit your profile, upload photos and videos of yourself
My Connections:
Notifications: See who sent you instant messages, viewed your profile and emailed you.
Mailbox: Read emails and emails to other members from this section.
Online Now: Find out what members are online now.
Live Cams: See live cams of women who get paid to strip for you.
Search: Find women according to your criteria such as age, location (country, city & zip code), gender, miles located for you.
Overview
With every investigation we do we always go in with an open mind and that's exactly what we did in this case. We registered as a free member and observed what any regular web user would see. Below we've included any evidence and proof of wrongdoing. Read the full investigation below.
Charging Your Credit Card Without Your Consent By Automatically Upgrading People To A "VIP Membership"
Any dating sites that we expose for scams are cookie cutters of one another. They operate all these scams in the same manner, they are designed exactly the same with a different logo and they're usually operated by one of four different dating networks. In this part of the investigation we've taken a screenshot showing you that if you purchase a membership on QuickSexMatch.com you're automatically upgraded to a VIP membership without your consent, and without your knowledge. As you can see in the screenshot below circled in red you're automatically upgraded and charged to two different websites on top of paying for a membership for Quick Sex Match. The charges are $39.61 per month and $28.87 per month to a website called VideoErotic.com. If you ended up buying a membership you should take a look at your credit card statement because you've been getting charged over $120 per month that you had no idea about.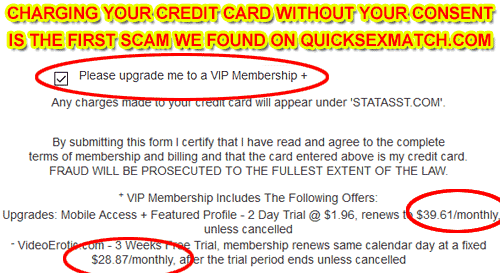 (Screenshot of the VIP upgrade scam.)
Auto Generated Bogus Instant Messages Used To People Into upgrading
After evading the credit card charge scam we were able to gain entry into the members area of the site where the first thing that happened was instant chat messages started popping up all over our computer screen. Now take note these chat messages make it look as if real women are sending us messages BUT it's all a facade. This is not real, it's an illusion that's available because of technology. Computer software programmers have figure out a way to send people phony chat messages that look legitimate. These high-tech bot programs use a form of artificial intelligence to send people computer-generated messages supplied by the software operator inputting specific messages into the computer software program. People who use the software program input various chat messages and other variables and then the computer software program disguised to look like a real instant message will spit out those message messages to members of the site. When you try to reply to these pretend messages (that you believe are real) you're always asked to upgrade and get a "free gold membership" by verifying your age. And of course when you upgrade to verify your age you're automatically charged over $120 per month without your consent, without your knowledge and without your approval. You can take a look at the automatically-generated instant messages below that we've included as evidence.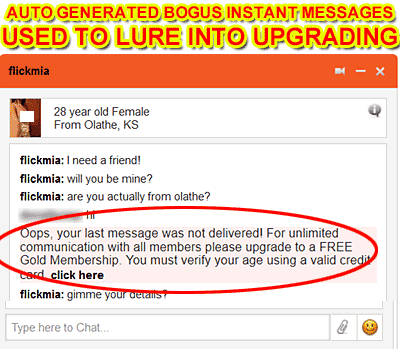 (Screenshot of the phony instant message.)
Bogus Fake Webcam Videos Used To Lure You Into Upgrading
Something else that happened almost instantaneously after getting into the members area of QuickSexMatch was we received a webcam chat from a brunette in her bra and underwear (see evidence below). You can take a look at the screenshot that we provide. This is not a live webcam chat and the girl isn't actually typing a message to us (although it looks like she is). Once again the culprits are the computer software programs that are built to trick you into believing local women are contacting you. These very sophisticated techniques used in the bogus webcam chat work very well. The only way to identify if the webcam chat is real or not is to watch the video for at least one minute and then you'll see that the video loops over and over. This is how you can identify if the video is actually a live person or pre-recorded. This particular webcam chat is a pre-recorded video used to con people into upgrading to a paid subscription resulting in a $100 charge.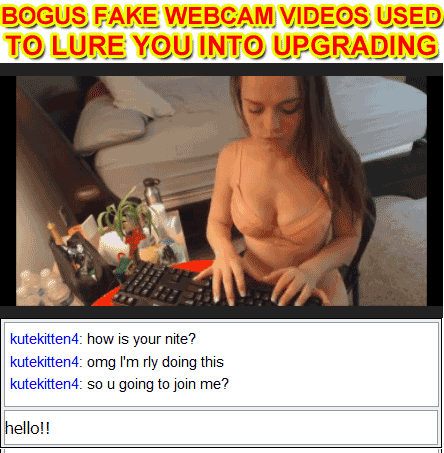 (Screenshot of the fake prerecorded looping video.)
Bots Sending Fake Notifications As A Deception To Dupe Free Members Into Upgrading
Another technique used by this website is to send people fake notifications. A notification is when you are alerted when someone sends you an instant message, or views your profile or send you an email. These are all a deception using the highly sophisticated consumer computer software bots. You can take a look at the screenshot that we have provided below as evidence. None of these women are legitimate women sending us messages, viewing our profile or emailing us. This is all one grand Illusion, a trick to get people to upgrade.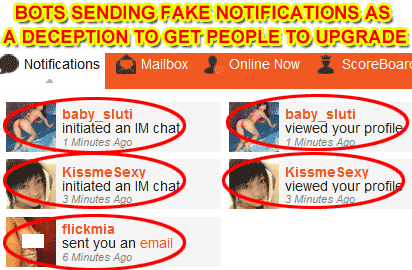 (Screenshot of the phony notifications we received.)
How To Identify Fictitious "Love Star" Profiles
Next we'd like to talk about the profiles on this website. The majority of profiles of women on this site are fake. These profiles have been concocted and fabricated by the website's own staff. These profiles have images of attractive looking women combined with fake profile data. All of it leads you to believe that you're getting instant messages and emails and webcam messages from real girls in your community. But digging into the terms and conditions page we quickly found out that the website is building an army of phony profile pages that they call love Stars. In the terms and conditions page (section #10) of QuickSexMatch.com they openly state that they use fictitious profiles and have termed them "Love Stars". They even explain how to identify a fake profile on their website. If you take a look at the evidence below you can see three different examples of fictitious "Love Stars". profiles circle in red you will see the letters "LS". This is an abbreviation for "Love Stars" a term that the owners of QuickSexMatch.com use to identify their bogus profiles. Remember this is all detailed on their own website on their terms and conditions page, so without any shadow of a doubt they are building fake profiles disguised to appear to be real women. We took a screenshot of the notifications we received. You can take a look at that evidence below to understand how deep this type of deception goes. All of the profiles we viewed were "Love Stars".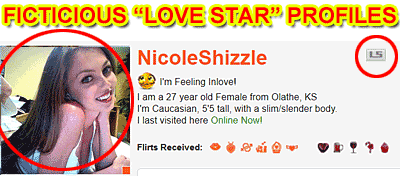 (Screen shot of fictitious "Love Star" profile.)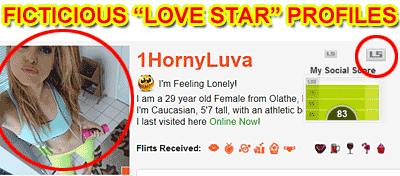 (Screen shot of fictitious "Love Star" profile.)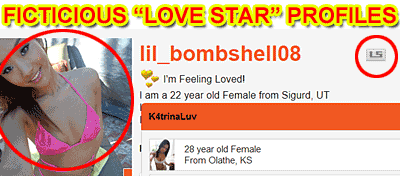 (Screen shot of fictitious "Love Star" profile.)
Pretend "Love Stars" Profiles Using Stolen Photos Of Porn Stars
After we realized that the website was building an army of fake profiles we started using some of our handy software tools like Tin Eye. This is a great website to help you spot fake profiles anywhere. This site wasn't built to identify fake profiles but it was created to help people spot where any image is found on other websites. All you need to do is provide an image or a link to an image that you're interested in investigating. You input that into the TinEye.com website and then if that photograph is found on other websites it will list all the places that the profile picture is found on. It's a quick way to identify fake profiles that are using stolen images. It will spit out any other web locations where that exact images found on. This is a quick way to identify if you're interacting with a real person or a fake one.
You can take a look at the evidence below and you can also see the corresponding links. One of the woman was actually a pornstar who even had her own website and her own Twitter page. We highly doubt that she registered on QuickSexMatch.com.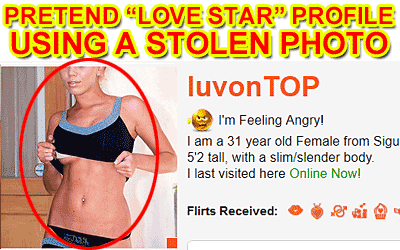 (Links showing the exact links where you can see this profile photo located:)
This girl is actually a pornstar called Lonnie Waters. She even has her own website at LonnieWaters.com and she even has a Twitter page.
http://www.lonniewaters.com/p/galleries/101684/lonnie2mat_m/1
http://www.lonniewaters.com/p//pics//lonnie2mat_m/thumbs/jnaa2mat012.jpg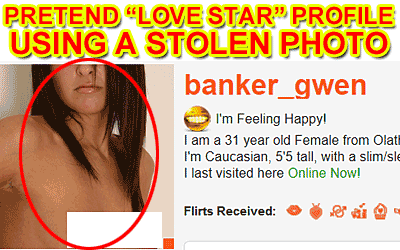 (Links showing the exact links where you can see this profile photo located:)
http://lilly.crocogirls.com/polka-dot-bra/13.html
http://lilly.crocogirls.com/polka-dot-bra/13.jpg
The Terms Is The Most Important Piece Of Evidence We Have
The terms and conditions page is the most eye-opening and the most incriminating part of this investigation. Please remember that the terms and conditions were written by the website's own administrators. On the terms and conditions page they confess to defrauding, misleading and essentially scamming people on their website. Some of the things they admit to include the use of fictitious profiles (Love Stars) that they are responsible for creating. They also confessed that they use the sham profiles in conjunction with automated bogus messages that include emails, instant messages and text messages all used in an effort to get people to upgrade. They go on to state that no physical meeting can ever take place between you and one of their fake "Love Stars" profiles. This is all shocking but it's the greatest piece of evidence we could ever hope for because it proves once and for all that QuickSexMatch is totally fake. Read the most important parts of the terms and conditions page below or click on this link to be taken directly to their website where you can read it for yourself.
You understand, acknowledge, and agree that some of the user profiles posted on this site may be fictitious or models or bots related to our "Love Stars" program.
You understand, acknowledge, and agree that the information, text, and pictures contained in the LS profiles do not pertain to any actual person or member, but are included for entertainment purposes only.
You further understand, acknowledge, and agree that, from time-to-time, LS may contact Website and Services users and members via electronic messaging, including for example, email, instant messages, and SMS, for purposes of encouraging further or broader participation in our site's Services and/or to monitor user activity.
You understand, acknowledge, and agree that no physical meeting will ever take place between you and LS, and that the exchange of messages between you and a LS is for entertainment purposes, as well as to encourage further or broader participation in our site's Services and/or to monitor user activities.
Hosting Server Info:
Address Of Host: 30077 Agoura Court,

First Floor,

Agoura,

CA,

91301,

USA

IP Address Of Server: 207.178.206.79
Name Servers: DNS5.TNCSERVERS.NET, DNS6.TNCSERVERS.NET
Contact Information:
Phone:

877-560-7747

Addresses: Nautell Capital Ltd, 12-14 Kennedy Avenue, 1st Floor, office 107, P.C. 1087, Nicosia, Cyprus
Email:

[email protected]

Be aware: You may cancel at any time by visiting our support center at: Billsvcs.com.
Final Decision:
QuickSexMatch.com is just another cookie cutter phony hook-up site that targets men seeking women online. We've given you all of the evidence we can that proves to you what this website is really all about. Although it's disguised to look like a legitimate dating service it's actually a well-hidden and well-thought-out fraud. Share this review on social media and help get the word out about this disgusting scam!
Search For Real Females Here
Check out these these legit dating sites if you want to search for real women
File A Report
© 2017, Admin. All rights reserved.